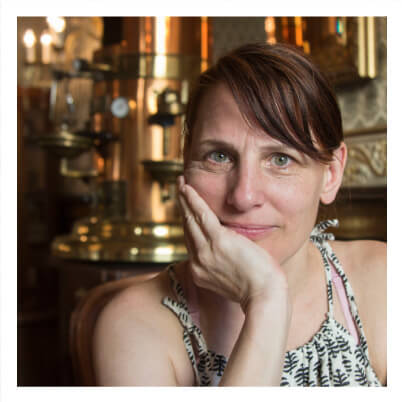 BETTINA FABOS
Writer and Producer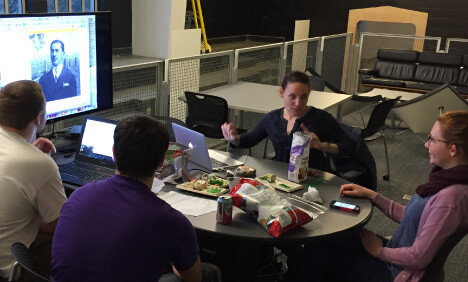 Bettina Fabos is a professor of Interactive Digital Studies and Visual Communications at the University of Northern Iowa. Her written and creative work revolve around digital culture, digital visualization, and digital photo archiving.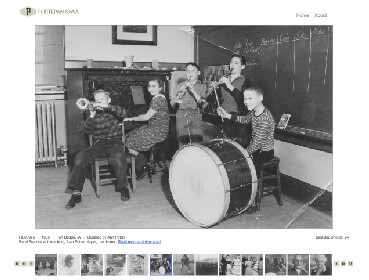 Actively promoting the Creative Commons in her writing, teaching, and project work, Fabos routinely applies theory to practice: Proud & Torn is enormously reliant on the CC for digital images; Fortepan Iowa contributes thousands of amateur photographs to the CC and is the first sister site to the Hungarian Fortepan archive. With a background in media production and media literacy pedagogy, Fabos has written extensively about the role of the U.S. media in democracy and Internet commercialization.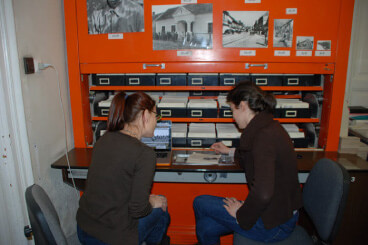 A native of Amherst, Massachusetts, Fabos is a former print reporter and an award-winning documentary producer. She received a Ph.D. in Language, Literacy, and Culture from the University of Iowa, an M.A. in Telecommunications Arts from the University of Michigan, and a B.A. in English Literature from Oberlin College. As a Fulbright scholar in 2013, Fabos studied Hungarian history and researched in photo archives for Proud & Torn.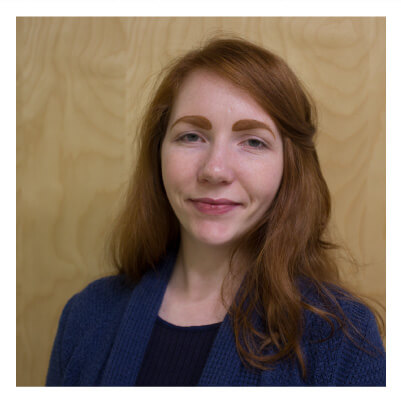 DANA POTTER
Designer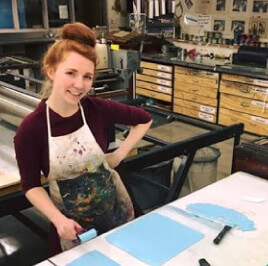 Dana Potter grew up in the small tourist town of Okoboji, Iowa, where she immersed herself in art-making with her mother, the manager of an art collective. Potter received her Bachelor of Fine Arts in Printmaking with a minor in Interactive Digital Studies from the University of Northern Iowa in 2015, and is currently pursuing her Master of Fine Arts as a Tennessee Fellowship for Graduate Excellence recipient in the School of Art Printmaking program at the University of Tennessee in Knoxville. She continues to combine her digital and printmaking work in unique ways.
As a web designer, Potter has designed a vast array of web projects from interactive timelines for publishing companies to non-profit art galleries. She frequently works with the subjects of time, memory, data sets, and personal narrative to assist in organizations with clear and beautiful communication of complex information and stories.
As a printmaker, Potter explores her daily digital interactions through analog tools. Between the computer and the studio, she investigates her actions as intuitive or programmatic, passive or active, incidental or planned. Her artworks ask viewers to both question and celebrate the digital tools that define their daily rhythms.
COLLIN CAHILL
Web Developer, Digital Sustainability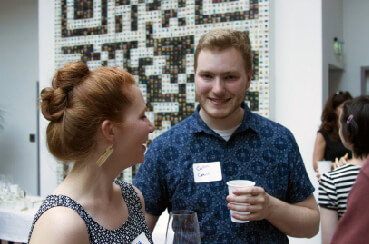 Collin Cahill has authored thousands of lines of code for Proud & Torn. With a background in software engineering, his expertise lies in build systems, CSS, optimization, asset management, SVG, and code cleanup. His project work began with implementing the horizontal scrolling panoramas and building a number of interactive elements, and expanded to managing the the project code base, directing student developers, and ensuring the project's longevity.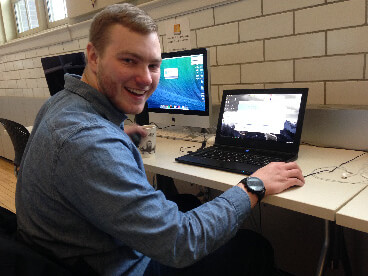 He currently works at a software development company called Banno, where he is thinking about new and exciting ways to use web technologies.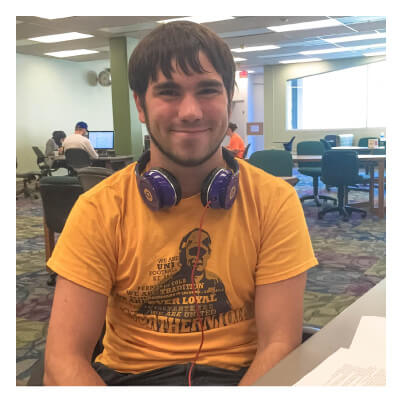 JACOB ESPENSCHEID
Web Developer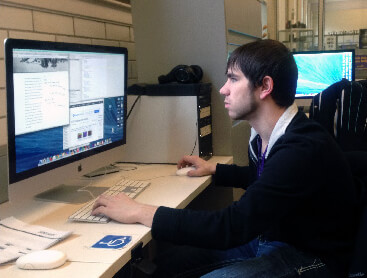 Jacob Espenscheid specializes in app development and has also authored thousands of lines of code for this project. He drove the initial framework, implemented its parallax functionality, and made Proud & Torn come alive with the JavaScript framework "ScrollMagic."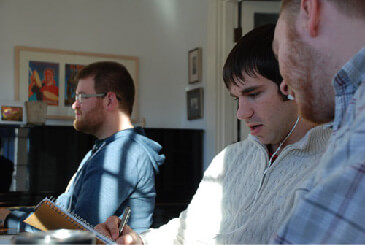 Jacob grew up on a farm in Traer, Iowa and currently lives near Salt Lake City.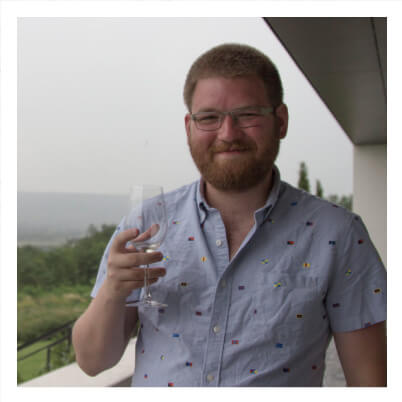 ISAAC CAMPBELL
Animator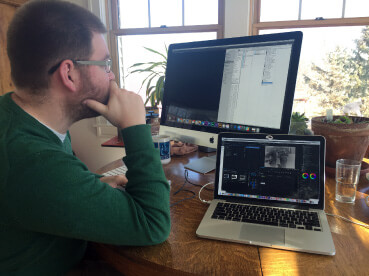 Isaac Campbell is a freelance animator and video producer with expertise in After Effects. He has collaborated with leading Hungarian filmmaker Ferenc Török on documentary production, and has spearheaded multiple digital archiving initiatives in Iowa, where he lives (when he is not traveling for work and for fun).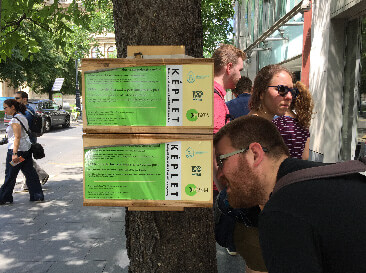 Campbell's newfound interest in and respect for historical photography stems from his work with Proud & Torn. He hopes to explore new applications and unique ideas on how to utilize photography to inspire interest in historical learning and community heritage. He is the recipient of a Fulbright award in, of all places, Hungary and has made important contributions to the Fortepan archiving movement.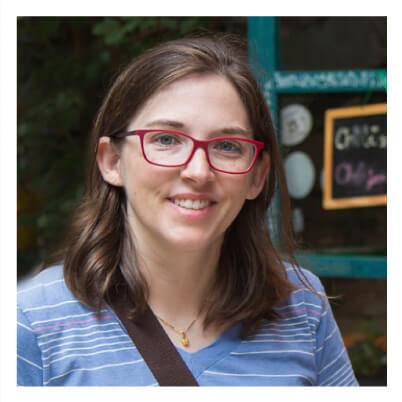 LESLIE WATERS
Historical Advisor and Editor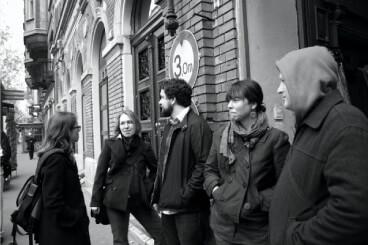 (Far left) Leslie & Kristina as students in Budapest
Leslie M. Waters is a history professor at Randolph-Macon College in Ashland, Virginia. While she was an undergraduate at the University of San Francisco, Leslie studied abroad in Budapest and immediately became fascinated with Hungarian history. Living and working in Hungary and Slovakia inspired her to pursue a Ph.D. in history at UCLA. Her work focuses on border conflicts, forced migrations, and identity politics in Central Europe.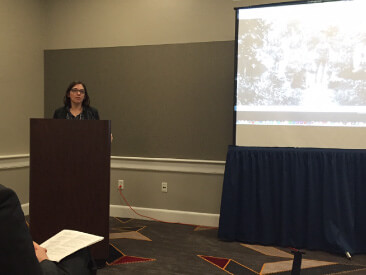 Leslie presenting our project at a conference
Leslie got interested in Proud & Torn when she heard Bettina give a lecture on how visual images can impact the way we learn about history. She wanted to be a part of a project that highlighted lesser-studied aspects of Hungarian history – rural history, women's history, history of everyday life – and did so through visual sources and digital humanities. Leslie has worked on the historical content of Proud & Torn, highlighting what the Fábos family's story tells us about Hungarian and European history more broadly. She researches the history of border conflicts, forced migrations, and identity politics and has published articles in Contemporary European History and Hungarian Historical Review. She is currently preparing her book manuscript, Borders on the Move: Identity Politics and Territorial Change in the Slovak-Hungarian Borderlands, 1938-1948, for publication. Dr. Waters teaches courses on modern European, Eastern European and Russian history and often assigns graphic novels in her courses. She has received fellowships from the Mellon Foundation, Fulbright, and the Mandel Center for Advanced Holocaust Studies.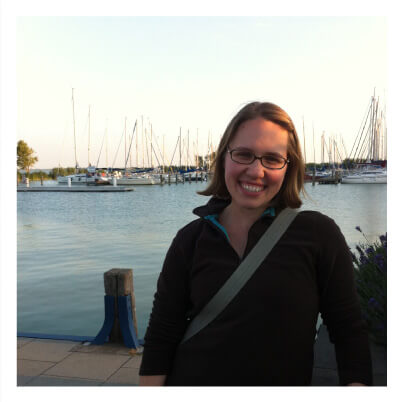 KRISTINA POZNAN
Historical Advisor and Editor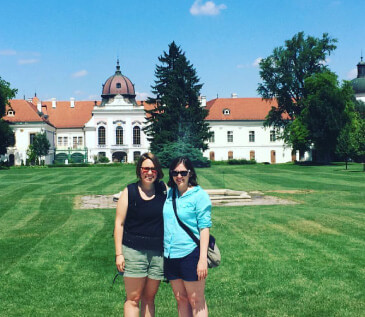 Kristina Poznan is a visiting assistant professor of history at La Salle University in Philadelphia. Her research examines migration from the lands of the Habsburg Empire to the United States from the 1880s to the 1930s and the role of transatlantic migration in accelerating Eastern European separatist nationalisms.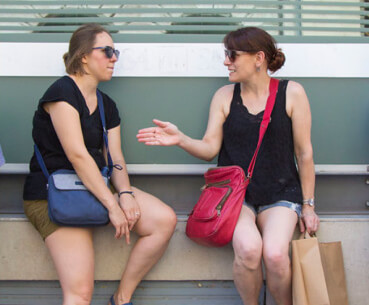 Kristina began advising on historical content for Proud & Torn in 2013, after being in the same cohort of Fulbright Scholars as Bettina Fabos. She particularly enjoyed testing early chapters of this project with her teacher education students and integrating their suggestions toward making the project an effective classroom tool. Her articles have appeared in the Hungarian Historical Review and the Pennsylvania Magazine of History & Biography and her research has been supported by the American Council of Learned Societies, Fulbright, and the Wilson Center, among others. She is also the editor of the Journal of Austrian-American History, an open access journal published by Penn State University Press, and previously worked as a Subject Matter Expert on several different history textbooks.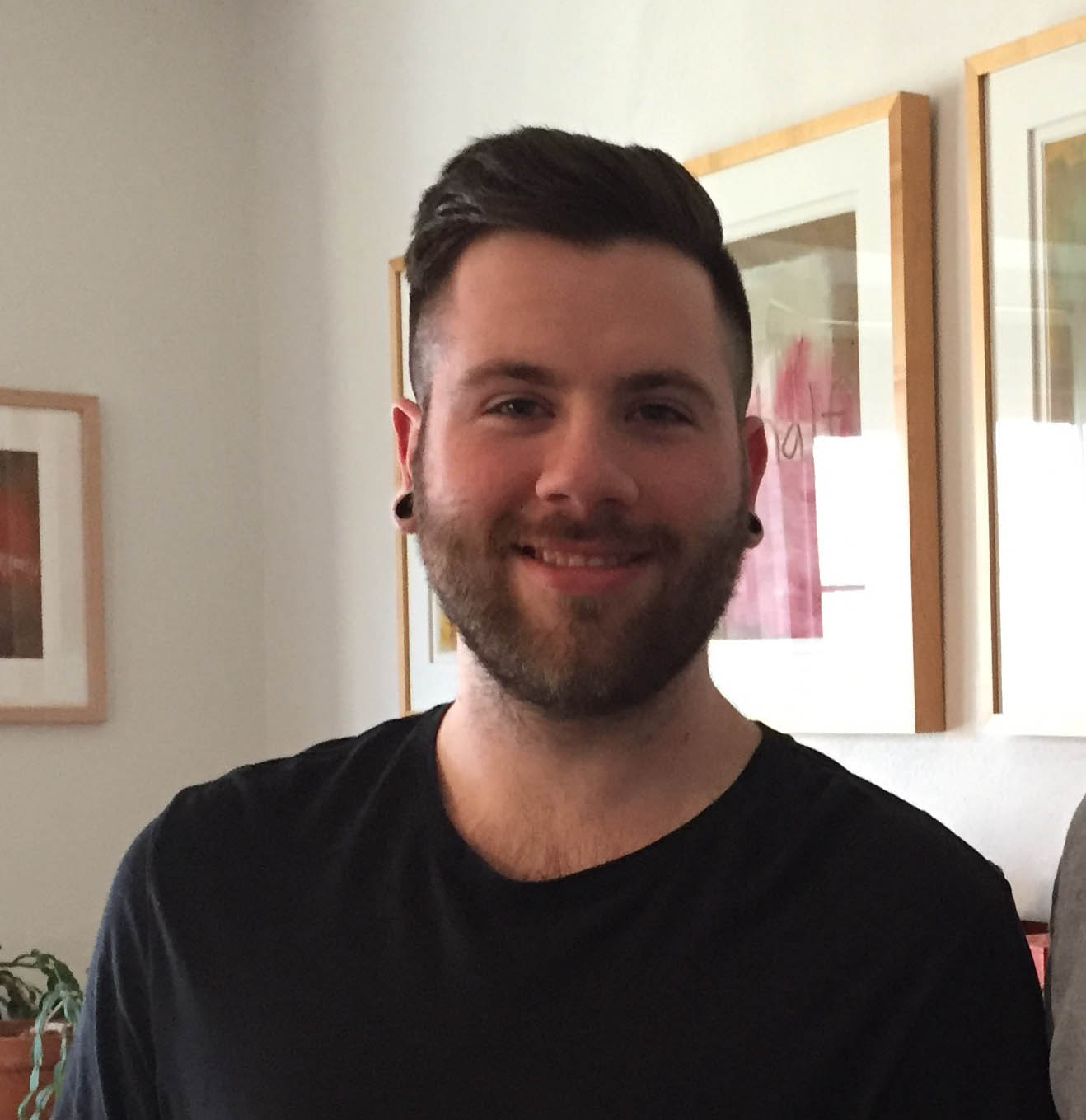 CONNOR THORSON
Mobile Web Developer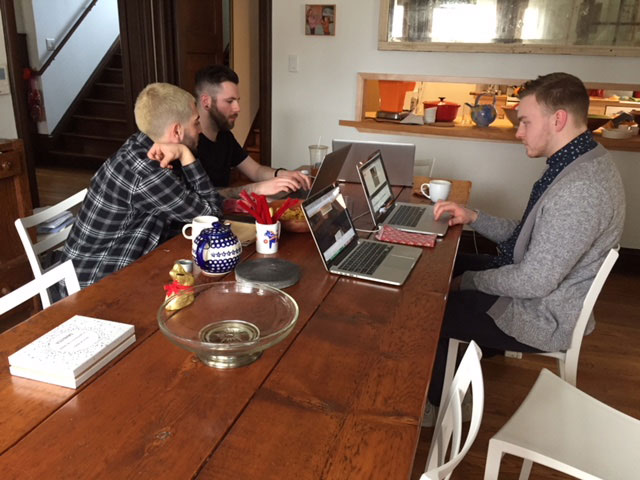 Connor with Collin and intern Brendan Benson
Connor Thorson joined our team after we finished the main project and began focusing on the mobile version. He has been instrumental in helping us adapt Proud & Torn for mobile. He specializes in interactive digital development, and is now living in Oregon and working as a web developer for the Environmental Protection Agency.
Team Visit to Hungary
During the summer of 2017, the creators of Proud & Torn traveled to Hungary to meet Ari and experience many of the historical landmarks that appear throughout the project. We would say, collectively, that our appreciation of Hungary and the Hungarian people is endless.